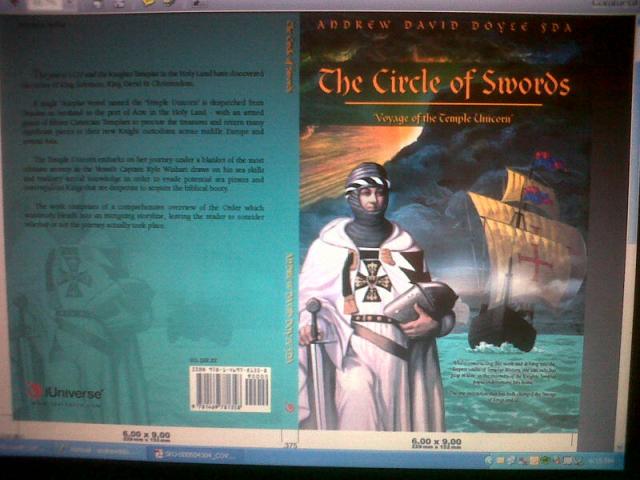 DRAFT UNEDITED MANUSCRIPT TO WHET YOUR APPETITE
The Circle of Swords
'The Voyage of the Temple Unicorn'.
The Order Today
The Grand Priory of Scotland is a component unit of the Order of the Knights Templar, a Sovereign International organisation whose existence dates back to the first years of the 12th century. Today the Order has almost five thousand members in over forty-five countries and regularly undertakes works of charity and support to those in need.
'Ordre Souverain et Militaire du Temple de Jerusalem'
About the author
Andrew David Doyle was educated in Dundee, Scotland, he then sustained a successful Military career of 15 years, then embarked into the commercial world of hydrocarbon exploitation
Andrew is currently studying for his Bachelor's Degree in Management an has become a member of the Society of Authors.
Andrew David Doyle
The author has taken deliberate steps to ensure that the freedom of speech in a democracy is applied, especially, detail regarding such sensitive subject matter facilitating a single POV – point of view from the author, presented with an outpouring of information sufficiently explicit enough to present a mixture of fact and conjecture providing an enchanting tale for the reader.
Chapter One The 'Novus' Conclave – opening storyline.
Hugues De Payen took a few deliberate steps across the open square of the small village, he began drawing his sword then took a single deep breath and waited for a convenient juncture before sinking the heavy steel deep into the chest cavity of the now not so brave and cowardly squealing rapist..
The shock look of horror on the face of the perpetrator coupled with the presence of a cold fear lasting no longer than five quick seconds before the perverted deviant realised he had been 'run through' with a two foot long cold blade constructed from the best Damascus steel. A strike that had been delivered swiftly and cleanly by a new enemy from within the sandy walls of Acre, the 'Templar.'
De Payen paused for reflection and captured the moment as a snapshot in his minds eye, momentarily committing yet another soul to what was becoming quite a library of death by his physical intervention on behalf of Christendom, having only a few minutes earlier was witnessing his victim's active participation in a diabolical act of gang rape and theft towards a young woman barely in her teens.
The girl in this case the victim who would have certainly been left her for dead if it had not been for the gang being disturbed by the sound of horse hooves nearby, and by the gang's arrogance or ignorance they would end up leaving the poor girl traumatised distressed and often pregnant and left disoriented in her own world destined to become an outcast.
The Knight had already dispensed his understanding of balance of power and justice towards two other offenders of the gang who lay not too far away from the girl with similar mortal wounds, both wallowing in pools of their own blood.
His interpretation of Augustine rule, often brought on by his self imposed guilt, in an effort as to question himself in determining how far does a pseudo Monk and soldier extend his capabilities in protecting those unfortunates.
The authority to deliver justice on behalf of those who are more vulnerable or exposed to tyranny within this turbulent society, a self imposed rule to keep order outwith the failing laws of the land. After yet another brief lapse in time he concluded the ultimate price of death in this case does indeed deliver justice on behalf of the urchin.
A single voice ran out from behind Andre' Montbard. 'There were two more over on the far side of the water well, I have since sent them to meet their maker.' The voice was deep and commanding yet the tone sounded humorous and almost rehearsed.
Godfroi de St Omer stood with his sword across his left shoulder, trickles of fresh warm red blood slowly dripped into the soft sand and had already stained his tinted armour. 'Godfroi! there you are, we were getting worried about, thought you might have got lost in the stables or something.' remarked Andre'.
De Payen stood and stared into the dark recess beyond the makeshift wooden table, he was not ignorant to the fact that certain elements of the Muslim community were habitually attacking pilgrimage parties, easy pray for the many thieves and vagabonds targeting the many visitors who were in transit within the lands of promise.
Such was the nature of these attacks that the sporadic skirmishes were leaving many follower's of Christ either, dead by the roadside or potentially dying of thirst having suffered horrendous injury or just had fallen victim to the sun's relentless rays.
'He was becoming more concerned by the increasing numbers of pilgrims who were leaving middle Europe since the capture of Jerusalem in 1099 especially as the results had been so widely reported that all endeavours were extremely successful and that the lands were deemed a safer place to visit.
The powers that be were promoting the upkeep of the foreign lands in an effort to increase and secure further finance from the landed gentry, but he knew deep down there was turmoil across the Holy Land, global communications was sparking greater interest towards the lands of Christ and careful attention was required especially if it was to reduce further bloodshed.
Hugues turned to Montbard. 'We are not getting any younger you know that's for sure, my muscles are torn and my old bones are sore, the psychological scars of Christendom are taking their overwhelming toll on my poor physical frame my friend, maybe we should ask our sons and nephews to join our warring efforts, we could do with some reinforcements,
I hear somewhere that the Cistercian order have drawn a limit to what age groups they will allow to take up arms and fight for the military, I mean, how mad is that, how can we possibly build up our defences if we don't have them young enough to train, and of course I do understand that we are seen as cold hearted mercenaries, and that might not help.
Does it really show that we have no shame or display any real allegiance to any single country, or am I the only cynical bastard that thinks - that in the eyes of the external world we are pieces of dog shit trudging in the sands of Jerusalem for an intangible belief, when in my heart I know why I protect the belief of Christ, it's in my blood.
He nudged the desk leg. 'How old is your young nephew Bernard now anyway Andre? He asked. 'If I recall last time we met he appeared to be a sturdy young ox if I remember correctly, I last heard good things about him, becoming an eminent scholar and a man of reasonable standing, he could be useful to us in the future, especially as he has strong links to the papal office. '
Montbard wiped his goatie beard. 'He is too wrapped up in bloody politics to get involved with the like of us I am afraid, apparently too busy to come and wield a sword, too high and mighty to fraternise or mix pleasures with underlings, well with the likes of you Godfroi, I don't think he could tolerate all your moaning, and groaning hahaha he said, placing his fingers in his ears. 'I think he must be in his early twenties now.' He remarked then smiled again.
Godfroi cleaned off the excess blood from his sword and faced the two straight on. 'I hear they indulge in red and white 'validus vinum', and in huge amounts of it too, we could entice these recruits away from their miserable landlords by offering them solace or even forgiveness whilst working for your ethereal king, and of course help them consume their vast wine cellars and smoke their plants in their heated water fountains.'
Extract:
Oh yes wine and shisha what a wonderful relaxant, but don't get too upset when you wake up with a cold steel dagger across your throat my friend.' Remarked Hugues pointing and pretending to slit his own throat. 'Especially as you float in vile exultation from a self imposed unearthly stupor, and, that's exactly my point, we can become very vulnerable if we are not careful, and that's exactly what I mean when I say we need to build a close knit team, a group where we can actually have that 'utopia' without the fear of any surprises.
Acre will provide us a solid training ground and good defence, these closed walls can easily be defended by just a few good men, well for now anyway, so what we need is a solid team to protect it, and we can become an entity much removed from city life and far away from prying eyes and ears and most certainly away from the Temple until we get settled.
Extract:
'For the past five years I have seen many sad and unnecessary deaths, rapes, murder, deceit, dismemberment, horrific acts of torture and injustice coupled with corruption beyond corruption, I suppose I just hang around to see what happens next.' Godfroi was nodding in agreement. 'I have watched you Hugues, you struggle to find order amongst this ever increasing chaotic world of depravity and depravation, a place where order is unlikely to rest it's shield, and yet, you yourself Hugues you don't ask for anything either, but strive to correct it.